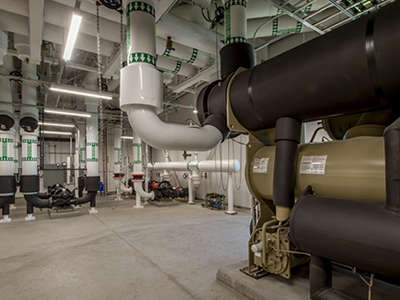 Treatment4Water provides a comprehensive range of formulated own-label products to treat all chilled and heating closed water systems.
Our products offer solutions to the common problems associated with operating a closed water system. Corrosion, scale and general solids fouling on heat transfer surfaces, and biological issues are all covered by our product range.  
We have formulated a range of high concentration, low dose rate products which are proven to be extremely effective.
Our team of experts are on hand to give valuable selection and application guidance for all our products.  Contact us for details of our own-label product range.
Product Guide: Industrial Closed System Water Treatment Chemicals
TD52:  Inhibitor, Multi- metal Systems including Aluminium
Alkanolamine, Azole, Co-polymer, Molybdate, Phosphonate
Fill up charge:  2 litres/m3
Monitor: MoO4  at >250mg/L
429:  Inhibitor, Multi- metal Systems except Aluminium
Azole, Co-polymer, Molybdate, Nitrite
Fill up charge:  4 litres/m3
Monitor: NaNO2  at 450-600mg/L
431:  Inhibitor, Multi- metal Systems except Aluminium
Azole, Biocide, Co-polymer Nitrite, Phosphonate
Fill up charge: 4 litres/m3
NaNO2 maintain reserve 1,000mg/L
432:  Multi- metal Systems except Aluminium
Azole, Co-Polymer, Nitrite, Silicate  for low hardness waters Max 100 mg/L as CaCO3
Fill up charge: 4 litres/m3
NaNO2 maintain reserve 1,000mg/L
436:  Inhibitor, Multi- metal Systems except Aluminium
Azole, Co-polymer, Nitrite, Phosphonate
Fill up charge: 3 litres/m3
NaNO2 maintain reserve ≥250mg/L
TD55:  Inhibitor, Multi- metal Systems including Aluminium
Alkanolamines, Azole, Co-Polymers, PCA , Phosphonates
Total Organic 
alkalinity titration
Fill up charge: 3 litres/m3
482:  Inhibitor, Multi- metal Systems except Aluminium
Fill up charge: 3 litres/m3
Maintain a Tannin reserve of 100 – 160 mg/L
510: Algae (F), Bacteria (G), Fungi (F)
Isothiazolinones & Bropopol: 
Non-Oxidising slow acting Broad Spectrum, non-ionic
Shot Dose 500-1000mg/L based on system volume
515: Algae (F), Bacteria (G), Fungi (F)
Isothiazolinones: 
Non-Oxidising slow acting Broad Spectrum, non-ionic
Shot Dose 500-1000mg/L based on system volume
587: Bacteria (G), Fungi (G)
Thiocarbamate:
Non-Oxidizing (Pseudomonas recommended) biocide in both open and closed systems
Dose 300 – 500mg/L  to system

Biocide Efficacy: E = Excellent, G = Good, F = Fair, P = Poor