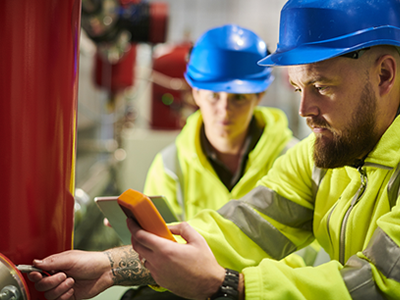 Treatment4Water provides a comprehensive range of formulated own-label products to treat all chilled and heating closed water systems from pre-commission cleaners to inhibitors and biocides. 
Our concentrated pre-commission cleaner is proven to suppress dissolved and total iron in closed systems between pre-commission cleaning, flushing, and filling with treated water.
Treatment of closed systems with our concentrated inhibitor products passivates metal surfaces extremely quickly, which is the key to arresting the oxidation of metal surfaces between flushing and filling of the system. This keeps iron levels below the stipulated maximums set out in the BISRIA guide:  Water Treatment for Closed Heating and Cooling Systems.
Our team of experts are on hand to give valuable selection and application guidance for all our products. Contact us for details of our own-label product range.
Product Guide: Industrial Cleaning Water Treatment Chemicals
Descaling and sanitising agent with spent product indicator.  Legionella bacteria efficacy
1 Part SYN-CLENE 801 : 3 parts water
805: General Purpose Dispersant
Non Ionic Chlorine enhancer, Dispersant,  Biofilm, Mud, Oil &  Silt
Phosphoric Acid, Non-Ionic wetting agent for stainless steel plate heat exchangers, plastic moulding units
Normal use level 1-3%  based on system volume
Citric Acid, Calcium Carbonate, iron oxide sequestration
Normal use level  1-3%  based on system volume
Use level 20 mg/kg salt used in regeneration
874: Pre-commission and Closed Circuit Cleaner Concentrate
Betain, Phosphonate, Polymer, Sequestrant
Normal use levels  0.5- 1.5% based on system volume
28% Inhibited Hydrochloric Acid
Normal use levels  5-25% based on system volume